Thank you for visiting with Hill Crest Cockers!! Your interest in our website tells me we have a common love… Cocker Spaniels!! Hill Crest Cockers is the result of a lifetime of loving and owning Cocker Spaniels. We are committed to raising Quality American Cocker Spaniel puppies that are healthy, intelligent and have good temperaments. That commitment includes DNA Health Testing our dogs with Embark.  Hill Crest Cockers sits on a spacious farm in Southeast Georgia where our Cockers have room to grow and play. Along with Cocker Spaniels we raise beef cows, have horses and a couple of cats. Our Cockers love the country life. They ride ATV's with us and love running in our large hay fields.
    Our Commitment to raise quality Cocker Spaniels extends further than just breeding…we want our Cockers to be adopted by families who will give them loving forever homes. Every puppy adopted will be AKC registered with Limited Registration before leaving us and come with a one year health guarantee. Their tails will be docked and dew claws removed. All puppies will be Vet. checked, wormed and will have received their first vaccination before leaving our care. Please refer to our adoption page for additional information. Please contact me if I can answer any questions or concerns you might have about us or the breed. I look forward to chatting with you and sharing our Cocker Stories!!!
Thank You for spending time with us and we hope you enjoy your visit with our Fur babies!!
Our Cockers…Love to Love and Be Loved!!
Karen Branch (229) 457-5643 
We Health Test our dogs using Embark Vet serivices!!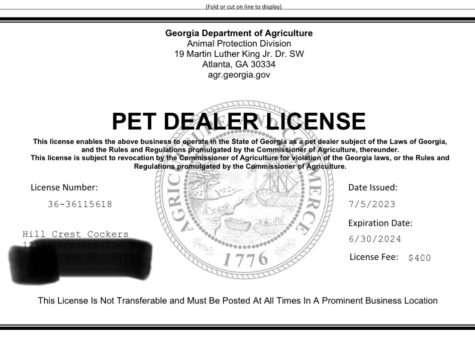 In the State of Georgia you are required by law to obtain a Pet Dealer License if you breed/sell more than 1 litter of puppies a year. This License is issued to a Breeder by the Georgia Department of Agriculture once said Breeder has submitted an application and passed an onsite inspection of their facility. This process is repeated every year.
I have removed my address for privacy reasons!